When two great electronic bands have the same name
Ending 90s, between spring and summer in an open flea market downtown Limoges (France), an incredible record appeared to me after a short rain, just like a flower that blooms on a morning dew…
After reviewing many vinyls on the markets's record stores, and realizing that there was not much change since the last month, I waited for a short spring rain to stop before coming back home. On the way back, I throw quick glances on the low sides, in case something could catch my eyes. Then, between books and chairs, a small box with vinyls int it. there, between used copies of Jimi Hendrix and John Lennon, the psychedelic art cover of this record nails me on the spot !
Which Cybotron is this ?
I knew Cybotron 's band, with Juan Atkins and Rick Davis, and I already had some materials from them but, before buying this record, I 've never heard about it. Could it have been made by them ? When ? So, first I have tried to find a release date, and could not find any information except what was on the central label, where Crypto seemed to be the record company, with a RCA distribution (or license?). No release date, no other names except Cybotron, only song titles and a mention : Original prod. : Clear Light Of Jupiter !
Was it made before or after 1980 ? I was totally excited with so many questions, so, I asked to the seller if he had something to tell about it. After staring at the cover and pulling hard on his cigarette, he said something like :"mmhhh nope, and I don't really know what is inside this box, it is coming from a friend who might have it from his family…". Anyway, I knew I will not leave without this copy, I can't remember exactly the price but it was pretty cheap so I took it thinking I would find more about it later, and went back home quite happy.
Of course I have asked some of my friends, which where involved in music, if they knew about this record, but I never found someone who got it too, or could have told me more about the release ! After several researches, and some time, I finally found interesting fact : this Cybotron was coming from another continent !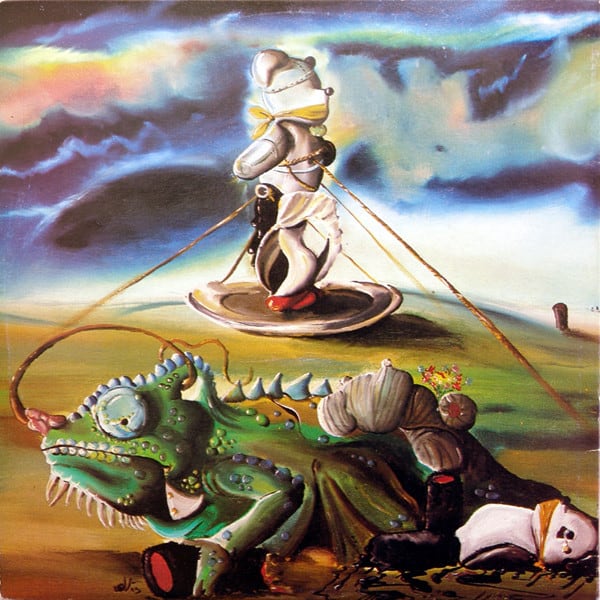 Electronic music from Australia
This Cybotron's album from australian's band was actually recorded in 1976, at Armstrong Studios in Melbourne, and was produced by Steve Maxwell Von Braund and Geoff Green, and engineered by Gil Matthews. The record was transferred from original, or best remaining sources, and remastered for CD format by Mark Woods in August 2002. Tracks 1 to 5 are from the album Cybotron. Track 6 is from the EP Ride To Infinity.
Steve Maxwell Von Braund played ARP 2600 and Korg 700 synthesizers, electronic percussion and alto saxophone. Geoff Green was on organ, string synthesizer, ARP 2600 and Korg 700 synthesizers. Gil Matthews played drums on "Gods of Norse". Tracks 7-9 are from Monster Planet by Steve Maxwell Von Braund, recorded in 1974 with additional musicians Henry Vyhnal on electric violin, Jim Keays on vocals, Gil Matthews on drums, and Geoff Green on lyrics.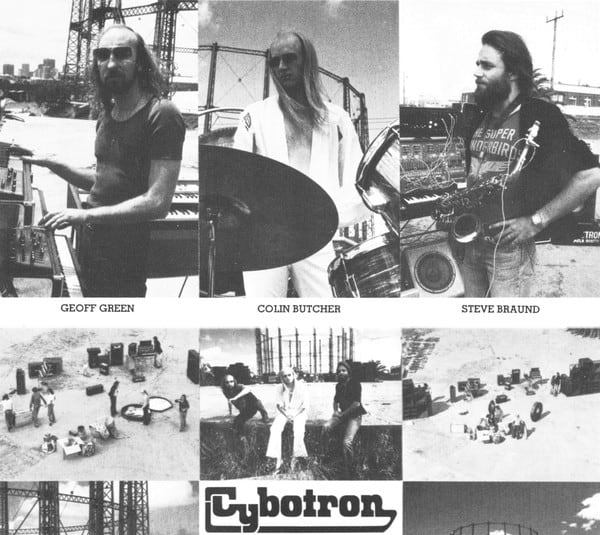 Words about the record
Even though it is not so unusual to see different bands sometimes sharing a same name, first,
I was a little confuse that Juan Atkins and Rick Davis were not in the project, because I really though they could have done it after my fist listening, like a prequel of  their early 80s works, which later gave the LP Enter (1983).
After listening to this LP again and again after all those years, I really think the Australian project brings another mood than the US band, maybe less dirty or funky. Anyway, this awesome musical piece tells a very special journey which totally suits to me,
I love the art cover, a real 70s psychedelic trip (prolific period with this thema) which made me think about, Rican/Struction, a Ray Baretto's LP. Then for years, both of these records were posing, side by side, on one of my wall !